Seeing the big picture across all channels of your marketing program is a constant challenge. That's why we're intrigued by a new analytical tool we recently previewed with our U.S. Postal Service representative here in Carol Stream.
USPS' new Marketing Impact Calculator, or MIC, is designed to help any business with $1 million or more in annual sales to measure the lift created by direct mail within a multi-channel marketing strategy.
USPS developed this iPad-based tool in partnership with Universal McCann, a leader in advanced marketing analytics. It's powered by big data reflecting the real results of Fortune 500 companies who use a mix of outbound and inbound web, social media, and traditional channels along with direct mail.
MIC is now being used by USPS reps in face-to-face meetings to develop actionable insights for leading brands in virtually any industry. A MIC analysis can do two crucial things for you:
Create clear, concise projections of the sales lift you can gain from direct mail as part of your current multichannel strategy
Evaluate direct mail's potential ROI for your specific company using multiple measures and reveal ways to make your current program even stronger
This kind of analysis sounds like it should take days, but with MIC it happens in minutes. Your USPS rep begins by entering your real or estimated spending across 11 marketing channels – everything from email campaigns to online search to print, TV and radio advertising plus direct mail.
Then your rep uses information on your company's direct mail activities, including total spend, the mailing format you most commonly use, and mailing list size plus the number of touches per year. Two levels of spending can be entered to compare two campaigns, customer groups or budgets. You can even compare zero direct mail spending to any given budget.
Your rep fills in the picture with the average selling price of your product, the average times per year customers buy, expected profit margin, average response rates, and sales conversion rates.
With this data entered, MIC creates fast insights based on both levels of direct mail spending. You can see the projected total annual sales you can expect, along with the annual and lifetime revenue value of a single new customer gained through the mail. The allowable spend per new customer acquired is also calculated, including printing, postage, and creative expenses. All calculations are aimed at homing in on ROI and are based not only on your company's own experience but that of leading brands nationwide.
A MIC analysis will add perspective to the hard numbers your analytics team has already developed. It's a solid starting point in answering the biggest question that every multichannel marketing team must ask itself: what EXACTLY can direct mail do to help us grow sales and profits?
We like the fact that the entire report can be securely emailed to you for discussion with your team and updated anytime. It's also great that you'll be sitting across the desk from the USPS pro who can answer a huge range of questions for you.
MIC is free, confidential, and offered directly through your USPS rep. We hope you'll take advantage of it and the other multichannel programs USPS is offering now, including the 2015 Mobile Drives Mail discounts we wrote about in a recent post.
Our only job is to help you build your brand.
Ready to get started? 
Contact us NOW – we're here to help!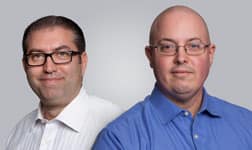 Sam Dentino and Frank Arostegui are American Litho's dynamic duo of direct marketing, bringing more than 40 years of combined experience to their roles. They work with the full ALitho team to serve clients in retail, financial services, insurance, consumer goods manufacturing, non-profit development, and many other fields.
LET'S TALK! Share a few details below.
"*" indicates required fields
.