If you're a direct marketing partner of American Litho, you've already seen our colorful mailer asking what's keeping you up at night.
We want to know if you're worried about the same things we are:
How to max out all possible postage discounts every time you mail
How to reach prospects with the right offer at the right time
Keeping production costs down without compromising creativity
Success with direct marketing depends on getting so many things right. Which is why we're trying our own hand at it. Like the direct mail tests we help a lot of our clients conduct, we're eager to see what we can learn by running our own campaign and asking what you think.
The first piece, which went out last Tuesday, is part of a drip campaign that will unfold over the next 7 weeks. We're touching on several points in each mailer and because we're interested in your views, we've put a quiz into each one. We hope you'll log on and give us your opinions.
A few thoughts on drip marketing
You've probably used drip campaigns before to nurture sales leads and build customer loyalty. The approach is also great for customer onboarding and renewal programs, free trials and events – in fact, any situation where ongoing education and engagement are key.
Successful drip marketing results from having detailed data about what prospects and customers want. Typically, campaigns are driven by this data. Messages and creative approaches are carefully crafted to draw on offers that consumers have responded to in the past and are likely to be interested in now.
Personalization helps nail the bigger message you're sending: that you totally get what each customer loves and wants and you're ready to deliver.
What might interest

you

most
When we put together our own campaign, we figured you'd want to see real examples of ways to enhance direct mail response rates. So our mailers deliver tips and techniques focused on greater relevancy, whether that's through better data analytics, creative formats or special printing effects we've found to be useful in grabbing customers' and prospects' attention.
Worries about how to stand out in the customer's mailbox are probably high on your list, so several of our mailers include live samples of multisensory effects that can boost response rates by as much as 40%.
It might surprise you that adding glitter, scent or texture can make that much of a difference. But when you see how Miracle Effects work and hear the stories, we think you'll be impressed. Watch for future posts on ways to further enhance your campaigns with multichannel approaches, including mobile engagement.
We hope you'll answer our quiz questions via the personal URL you'll find on each mailer. We want to learn what you think is the most anxiety-producing part of a direct marketer's job. Those are the exactly problems we want to help you conquer this year.
We'll keep both eyes open for your response – and the insights we need to help you find better solutions.
Ready to get started? 
Contact Us – we are here to help!
Ask a question or share a few details about an upcoming project.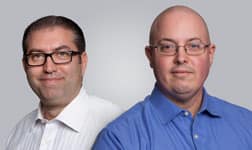 Sam Dentino and Frank Arostegui are American Litho's dynamic duo of direct marketing, bringing more than 40 years of combined experience to their roles. They work with the full ALitho team to serve clients in retail, financial services, insurance, consumer goods manufacturing, non-profit development and many other fields.
LET'S TALK! Share a few details below.
"*" indicates required fields
.