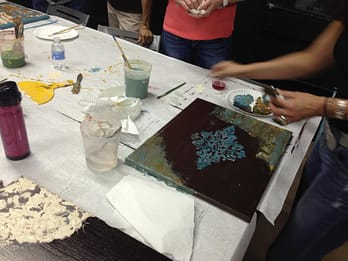 Next month, American Litho will be hosting a Paint Party fundraiser for the American Cancer Society.
Participants will come together to share the experience of creating an original work of art in an effort to raise support and awareness for the fight against cancer.
At the start of the event, a studio instructor will introduce and facilitate the use of various painting materials, tools and techniques.
After that: participants will have the opportunity to utilize what they have learned to create their own unique masterpiece!
The event is BYOB.  Water, soft drinks and light snacks will be provided.  There is a full kitchen with stove, microwave and refrigerator/freezer if anyone would like to make anything additional to share with the group.
The studio can hold up to 40 people. Family and friends are invited to attend!
When: Tuesday, May 24th, 2016                                                                                                                                                               Time: 5:45 P.M.                                                                                                                                                                                                          Where: Faux Design Studio, 101 N. Swift Rd,  Addison, IL 60101                                                                                              Cost: $25.00 per person (with a portion going to the ACS)                                                                                                                 Payment due by: May 17th, 2016 (in the form of cash or check made out to Sharon Rubar)
Let's come together and make a difference in the fight against cancer!
For more information about the event contact Sharon Rubar.
To learn more about American Litho's efforts to support the ACS visit our American Litho: Red, White and YOU Relay For Life team page.